address: Guramishvili Street 2
architects: Parnaoz Quparashvili, Co-authors: R. Kakhashvili, M. Chutkeraschvili, Ts. Quparashvili 
project: 1970
construction: 1985 
capacity: 250
current state: since 1992 – 1993 living site for Internally Displaced Persons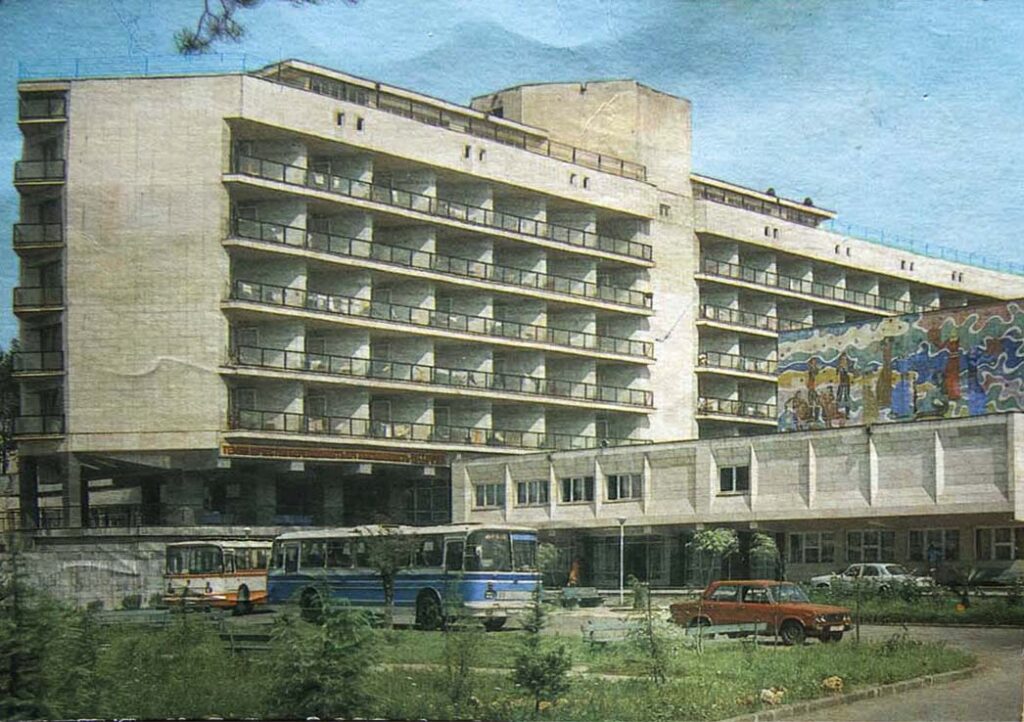 The legends of the mythical Medea, daughter of the Colchis king Aeëtes, and her love for the seafarer and Argonaut Jason, are interwoven with the adventure of the Golden Fleece, and also form the basis of the ancient narrative of Georgia. The place where Medea came from was founded by her father Aeëtes and was called Aia. It is probably the same city as today's Kutaisi. So much for the name of the sanatorium, which is one of the youngest in the entire spa town. This building has many remarkable details that separate it from the rest of Tskaltubian architecture. 
In 1985, the prestigious bathhouse was opened by the Ministry of Internal Affairs of the USSR. Aia was to provide respite for its employees, and the state forces spared no expense in equipping the facility. The building was organized into an ingenious and downright textbook modernist composition. The main five-floor accommodation block, in harmonious proportions, is perched on a horizontal ground-floor block of service, organized around the internal atrium. Like the nearby and equally old Sakartvelo Sanatorium, the Aia was equipped with modern medical facilities, a spacious dining room, a cinema hall as well as a casino. 
The entire house was clad in limestone tiles. The artistic accent of the distinctive façade of the accommodation area, which is beveled on both sides at an angle of 45 degrees and creates the impression of the head of an ocean liner, is complemented by the neighboring rich ceramic mosaic filling the entire surface of the façade of the cinema hall.  Since its completion, the Aia has been one of the few to have an accessible roof terrace on the top floor with a small swimming pool and café. From here, to this day, a breathtaking view opens up over the entire baths, the horizons of the Colchis Plain and the crest of the Lesser Caucasus Mountains, all the way to Bakhmaro. Mount Khvamli dominates the view on the opposite side. Perhaps, it is the one where Prometheus was nailed. The view from the upper deck of this 'ocean liner', docked at the park, could easily have been the one seen by the mythical Argonauts while sailing up the Rioni to the city of Aia.