address: Gurieli Street 1
architects: Aleksandre Intskirveli, Toma Potskhishvili
project: 1954
construction: 1962
capacity: 326
current state: since 1992-1993 living site for Internally Displaced Persons, currently abandoned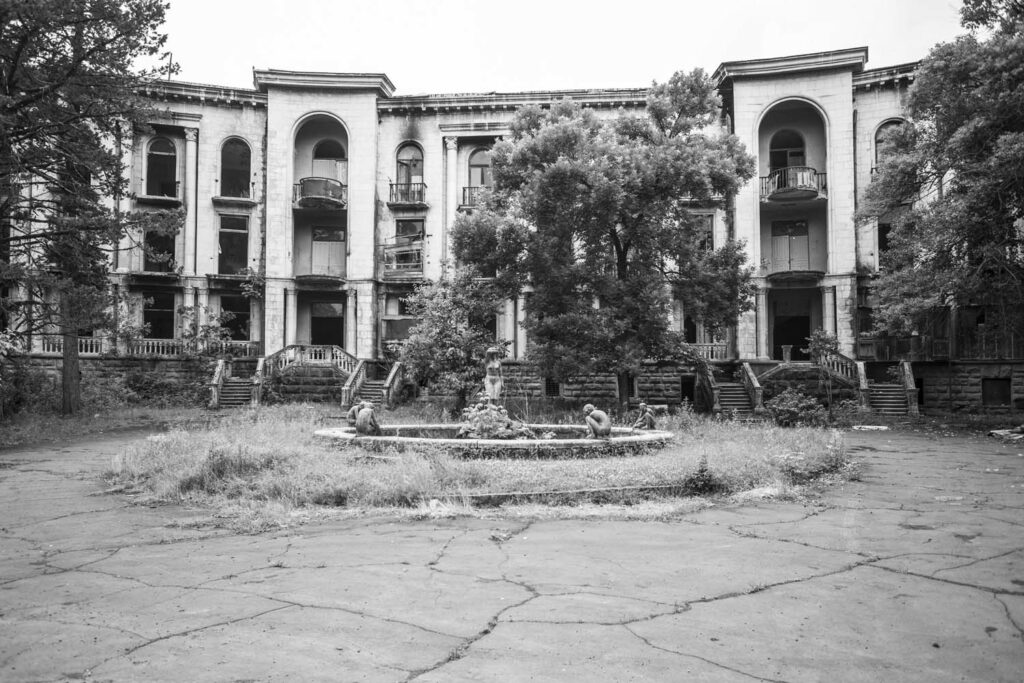 The construction of the sanatorium of the Central Union of Consumer Societies of the USSR was completed in 1962 under the leadership of the Ministry of Food Industry. The authors of the project are Alexandre Intskirveli and Toma Potskhishvili. The same group of architects is also responsible for the project of the sanatorium 'Savane' in Tskaltubo. Alexandre Intskirveli is the author of the Ministry of Defense sanatorium project as well. The 'Medea' sanatorium, once known as the 'Centrosoyuz', is located to the west of Tskaltubo Park. It is adjacent to 'Tskaltubo' and 'Friendship' sanatoriums. In order to reach the building, which is hidden in the greenery, deep in the hillside, the visitor has to walk through a wide alley and a parade staircase. At the top of the stairs, the first contours of the sanatorium can be seen. After going up the stairs, the culminating moment comes when the visitor finds himself face to face with the central part of the building. A gallery with tall columns paved with light colored stone, resting on the ground floor, coated with rough-hewn gray granite stones, makes a strong impression on the visitor. It is possible to get to the gallery from the yard, by pompous stairs placed on both sides of the central entrance. The building has an asymmetric floor plan, consisting of several interconnected parts. The central part of the building is extended on the left side by a three-floor part raised on the ground floor, which has two independent entrances. Entrances are accentuated with tall arched openings. From the original decoration of the sanatorium yard, a circular fountain decorated with sculptures has been preserved in this part. To the north-west, the central part of the building is connected by relatively short wings, which create a partially open inner courtyard connected on different levels. For years, 'Medea' sanatorium has been a living place for families displaced from Abkhazia. Today, it is abandoned and ruined. In 2021, the building was granted the status of an immovable monument of cultural heritage.