address: Rustaveli Street  51 / Tskaltubo – Khoni road 1
architects: Valeria Vekilova, N. Pocheptsova
project: 1948
construction: 1954
capacity: 350
current state: since 1992-1993 living site for Internally Displaced Persons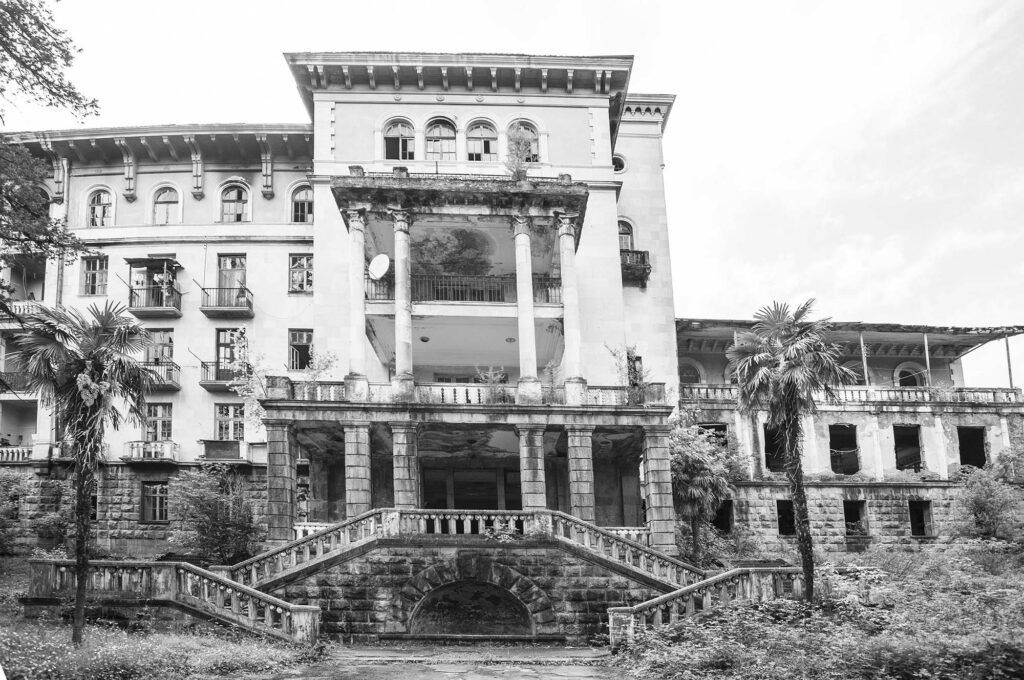 'Rkinigzeli' sanatorium is located on Shota Rustaveli Street, near the central entrance of Tskaltubo Park. In 1954, by the time the building was completed, the 'Tskaltubo' sanatorium was already operating in its vicinity, and three years later the sanatorium 'Metalurgi' was put into operation. The authors of the building are Valeria Vekilova and N.  Pocheptsova. Initially, the sanatorium was designed for 250 beds, but over time the number of beds increased and reached 350. The entrance to the territory of the sanatorium is arranged at the place where the circular road around Tskaltubo Park makes a sharp curve. The building is located close to the road and a staircase leads to its central entrance. The building consists of one longitudinal block. Similar to the sanatorium 'Medea', the central entrance is located on the north side of the building. It stands out sharply from the main mass of the building and is accentuated by the towering volume. The sanatorium has a second entrance located in its southernmost part. The sanatorium 'Rkinigzeli' shows further similarities with the sanatorium 'Medea'. The method of covering the ground floor with dark, rough-hewn stone and the upper floors with light-colored stone is used here as well. On the main part of the central façade there are deep balconies decorated with columns. The end planes of this part of the façade are separated by rectangular openings of the balconies and windows. On the last, fifth floor of the building, there is a series of arched openings, which are finished with a sharply protruding cornice. The rear façade of the building is much less elaborate. Since the late 1960's, the sanatorium has been functioning with the profile of cardiovascular diseases. Medical and diagnostic offices and laboratories were located here. IDPs have been living in the building since the 1990's.